Breast Augmentation in Beverly Hills
For many women, the natural size or shape of their breasts is less than ideal. If you would like to improve the appearance of your breasts, breast augmentation surgery can enhance breast size and shape. Breast augmentation can create a curvier figure, improve body proportions, enhance self-confidence, and help women to look and feel more feminine and attractive. Dr. Rey tailors each breast augmentation to match the needs of the individual patient for natural and appealing results.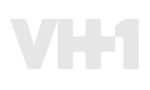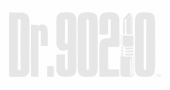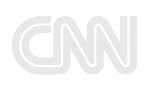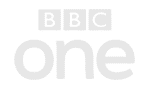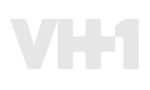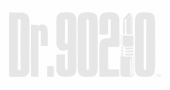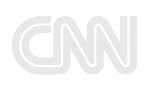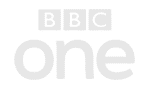 What Are the Benefits of Breast Augmentation?
Design Your Breast Augmentation
Implant Material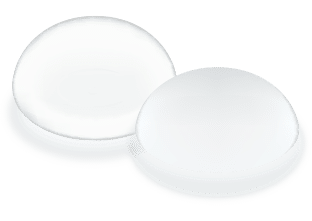 Saline:
A silicone shelled filled with a saltwater solution
FDA approved for women 18 years or older
Inserted into the breast pocket empty and filled during the procedure, allowing for smaller incisions
Easier to detect implant leaks or ruptures
More prone to visible rippling and wrinkles
More likely to have visible implant edges
Silicone:
A silicone shell filled with cohesive silicone gel
FDA approved for women 22 years or older
Best simulates the look and feel of natural breast tissue
Less likely to develop visible ripples or wrinkles
May require a longer incision to place the implants
Implant leaks or ruptures can only be identified with an MRI
Implant Shape and Profile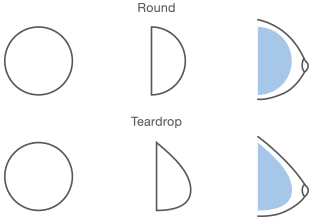 Shape:
A round implant is the most common type of implant used because it doesn't cause breast deformity if it rotates in the pocket

Round implants provide the greatest amount of lift, fullness, and cleavage but may provide more artificial-looking results

Teardrop implants are anatomically shaped with a gently sloping contour that creates the appearance of a natural breast slope

Can provide better breast projection and a more natural breast appearance
May cause breast distortion if they rotate in the pocket
Profile:
Low profile implants have a wider base and lower projection
High profile implants have a more narrow base and high projection
Implant Placement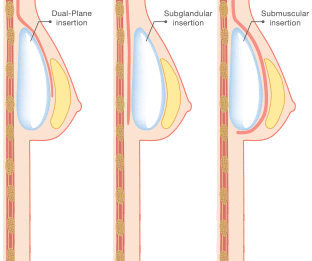 Submuscular location
beneath the pectoral muscle, which provides more implant coverage for patients with minimal breast tissue
Subglandular location (also known as submammary)
above the pectoral muscle and beneath the breast tissue
Incision Location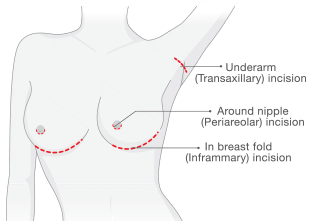 Periareolar:
The incision is created around the outer border of the areola
Usually results in minor, if any, visible scarring
Increases risk of losing sensation in the nipples
May impair milk production in women who wish to breastfeed in the future
Inframammary:
The incision is created along the lower crease of the breast
Results in minor, if any, visible scarring
Can reduce the risk of implants bottoming out
Transaxillary:
The incision is placed in the armpit
Only allows for the placement of saline implants (with the use of an endoscope)
Results in almost no visible scarring
Transumbilical (TUBA):
Implants are placed through the belly button
Doesn't result in any visible scarring
Only allows for the placement of saline implants (with the use of an endoscope)
Have Concerns About Breast Augmentation?
Recovery
You will experience bruising and swelling following your procedure. A specialty bra should be worn for at least two weeks to support the breasts and minimize swelling. Most patients return to work during the second week of their recovery and resume their regular exercise routine during the fourth week. Most swelling should subside after six weeks.
Scars
The amount of scarring that develops is dependent on the techniques used as well as your body's natural healing process. While some women will develop visible scarring, it is likely to fade over time.
Cost
The cost of this procedure may vary from patient to patient depending on various factors such as implant type, surgical fees, and anesthesia fees. A detailed quote will be provided during your consultation.
Pain
Anesthesia is used to prevent pain during the procedure. Mild discomfort after the procedure can be easily controlled with medication prescribed by your plastic surgeon.
Frequently Asked Questions About Breast Augmentation
Am I a candidate for breast augmentation?
The best candidates for breast augmentation surgery are healthy adult women who are dissatisfied with the size and shape of their breasts but have realistic expectations for what the surgery can accomplish (i.e., they are not expecting perfection). Patients who undergo breast augmentation do so not only for the obvious reason of increasing their breast size but also for the resulting boost in confidence that the procedure provides them.
What will be discussed during my breast augmentation consultation?
During your consultation, Dr. Rey will discuss your goals and address any of your concerns regarding the procedure. He will also perform a physical evaluation to determine if you are a candidate for breast augmentation.
Following your discussion, Dr. Rey will create a surgical plan based on your specific needs and goals—this includes implant, incision, and implant placement selection. This plan will allow Dr. Rey and his team to provide you with a detailed financial estimate.
Can any other procedures be combined with breast augmentation?
Many women undergoing breast augmentation surgery have other concerns or wish to improve other areas of their body. 
Some procedures commonly combined with breast augmentation include:
Additionally, breast augmentation is commonly performed as part of a Mommy Makeover.
What type of anesthesia is used during breast augmentation surgery?
Breast augmentation is performed using a general anesthetic to ensure patient safety and comfort.
Can I drive myself home after my breast augmentation?
Since breast augmentation is performed under general anesthesia, it would be unsafe to drive yourself home after surgery. You are required to bring a responsible adult to your appointment to drive you home and stay with you initially.
What are my options if I am unhappy with my results of breast augmentation?
If you are unhappy with your breast augmentation surgery results or wish to remove your implants for other reasons, such as a physical implant complication, you may undergo breast implant removal surgery or breast revision. This can only be performed after you have recovered entirely from your initial breast augmentation.
Can a breast augmentation improve sagging breasts?
No. Implants can slightly lift breast tissue, but if you suffer from sagging breasts, you will require a breast lift. The breast lift procedure is commonly combined with a breast augmentation to treat breast drooping and improve the results of your procedure.
How long will my breast augmentation results last?
Breast augmentation surgery is designed to provide long-term enhancement. Most women achieve a satisfactory breast appearance that lasts them for years. Some implants may require replacement after 10 or 15 years if they become worn or damaged. Consult the manufacturer for typical implant life and warranties.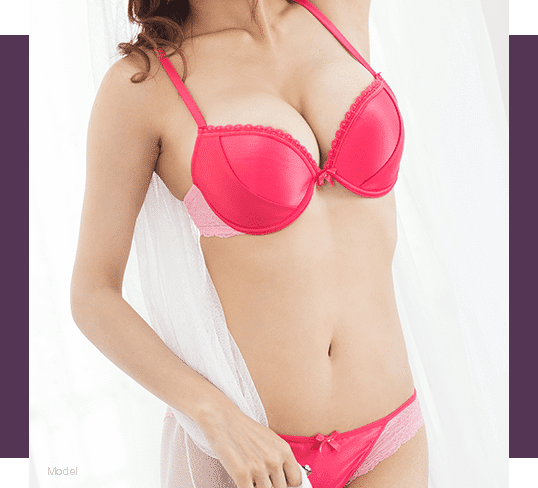 Reviews
Dr. Rey,
I don't even know where to start in thanking you! First thank you for being a gifted and wonderfully compassionate doctor. Your approach to helping me decide size was scientific and mathetmatical – very impressive. My results speak for themselves – my breasts are perfect. More beautiful than I could have ever hoped for. You do not have the gated "doctor's ego". You listened to all my concerns and made me feel like a person, not just another procedure. Thank, Thank, Thank you!!! As a man you have a wonderful sense of self and your family – all of these things make you not only a fabulous surgeon, but also a wonderful man. Thank you for everything!
Dear Robert,
When will I ever be able to make up to you the beautiful job that you did with my breasts??! Your gifted spirit allows you to bring out the beauty in everyone, no matter how much or little they have already in their favor. I feel so lucky to have been touched by your hands- I have been so fortunate that my heart has been touched by yours and will cherish this forever.
Dear Dr. Rey & Norma,
This note is just a little "thank you" for the amazingly informative and congenial visit I had with you last week. I was very impressed with the amount of time that Dr. Rey spent with me discussing every aspect of care and precaution involved with such a procedure as augmentation.
Before & After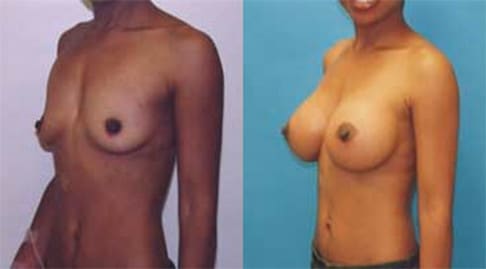 *Actual Patient