Posted March 20, 2018 in Breast Augmentation, Liposuction, Tummy Tuck (Abdominoplasty)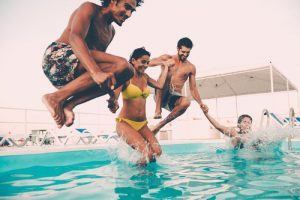 Summer is the time for beach trips, backyard barbeques, family functions, and long-awaited vacations. While engaging in all of these fun events, wanting to look and feel your best is definitely a top priority. Undergoing cosmetic surgery before summer is very common, and spring is the ideal time to consider getting a little help to look your best.
Why Consider Surgery Now?
When thinking about getting bikini ready, many people assume they'll have until summer begins to start undergoing their desired procedure. Unfortunately, this isn't so. A major cosmetic surgery takes time, and with any operation, a recovery period is sure to follow. For most procedures, expect to take up to two weeks off of work and your daily routine, which includes no exercising, lifting, or strenuous activities. Those weeks should be spent resting and allowing yourself time to heal.
Even after two weeks have passed and once results begin to show, you will still not be in the clear (recovery wise). By this time you may start to feel like your normal self. However, your results will not be completely visible. That would be due to internal swelling and bruising hiding your final transformation. While swelling is normal and temporary, the middle of summer may not be the ideal time to flaunt your bruises. A good rule of thumb is to consider cosmetic surgery at least one season before you want to show off your desired results. While there is no guarantee of this (since everyone heals differently), the odds will likely stack up the way you want them to. So why spend those bright and beautiful summer days indoors recovering, when you would rather be enjoying them outside with your family and friends?
Procedures to Consider
Ideal procedures to be ready for summer often revolve around the core of the body, meaning your stomach, hips, thighs, back, and breasts. If you are struggling with a distaste for one or more of these features, there are several possible procedures for you to consider.
Tummy Tuck
Tummy tuck surgery can transform your core and give you the confidence to flaunt those abs. This surgery removes excess skin that has resulted from pregnancies, weight loss, or the natural course of aging as well as tighten muscle laxity. Tummy tuck surgery typically involves some amount of liposuction to remove localized pockets of fat, more commonly known as your "stomach pooch," to leave you leaner, tighter, and more confident.
Liposuction
While liposuction can be combined with a tummy tuck to firm up your core, it is not the only option. Liposuction is a proven way to rid yourself of the diet and exercise-resistant pockets of fat that lowers your confidence. Liposuction can improve the appearance of the:
Abdomen
Hips
Thighs
Knees
Back
Ankles
Breasts
Breast Procedures
Obtaining your ideal breasts can be the final confidence-boosting procedure for many women. Whether you desire fuller, more shapely breasts or a smaller, balanced look, procedures such as breast augmentation or breast reduction can leave you feeling slender, sensual, confident, and ready to rock any bathing suit, tank top, or sundress.