Posted May 15, 2020 in Buttock Augmentation
3 Minute Read:
curves to genetics, which naturally store fat in the buttock and hip areas. Unfortunately, other women have naturally lean physiques that have difficulty creating or keeping curves.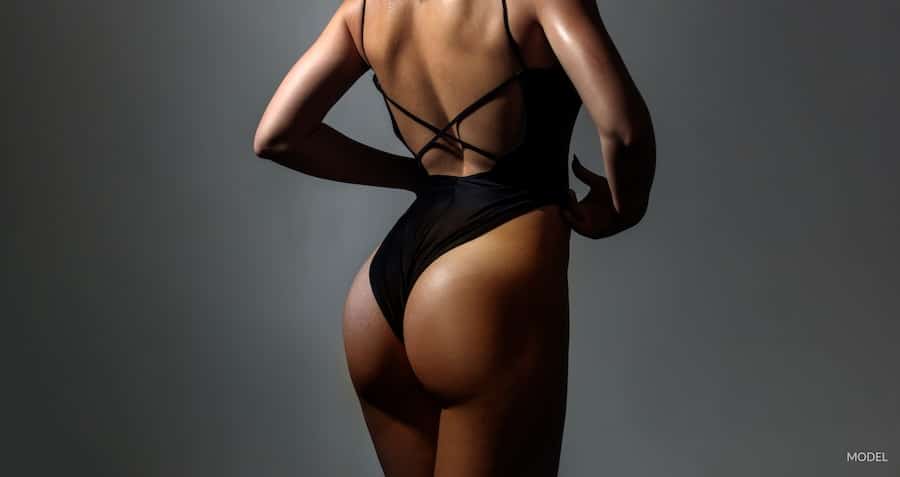 To enhance your derrière, you may try particular exercises or diets; however, these methods often provide lackluster results since you cannot easily spot focus or choose where you want additional volume. Not naturally, at least.
Butt augmentation is a cosmetic body contouring procedure that adds volume to the buttocks to create a fuller, rounder backside. Butt augmentation can be performed using different methods and customized to help you achieve your ideal goals.
How Is Butt Augmentation Performed?
Butt augmentation is performed through one of two ways: butt implants and fat transfer.
Butt Implants
Butt implants insert silicone-filled implants through a small crease beneath the butt to add volume and improve the shape of your bum. Implants are known for producing dramatic results and round contours.
Brazilian Butt Lift
Fat transfer butt augmentation, more commonly known as the Brazilian Butt Lift (BBL), uses liposuction to remove excess fat from one area of the body (such as the abdomen, hips, or thighs)and injects it into the buttocks.
Is Butt Augmentation With Fat Transfer the Best Choice for Me?
Since both techniques for butt augmentation are highly effective, you may be wondering which approach will work best for you.
According to a 2018 study by the American Society of Plastic Surgeons (ASPS), over 24,000 butt augmentations with fat grafting (BBL) were performed in the United States. In that same time frame, there were less than 1,000 butt implants.
These statistics demonstrate just how much more popular butt augmentation with fat transfer is. But is it worth it?
What Are the Benefits of Using Fat for Butt Augmentation?
The Brazilian Butt Lift is an excellent option for anyone who would like to add volume to their butt while avoiding excessive scarring or implant complications. And, being that a fat transfer uses the patient's own fat, there is no chance of allergic reaction or rejection.
The fat transfer method also carries a bonus of liposuction. Since the fat comes from the abdomen, hips, thighs, and lower back, this technique allows for comprehensive body contouring. This added step slims the waist, which creates a flattering, desirable hourglass shape.
When Is the Brazilian Butt Lift Not Right?
Unlike the implant method, your results after a Brazilian Butt Lift may be more subtle; however, that doesn't mean that they can't be dramatic. Some of the fat that is injected into the buttocks will be reabsorbed into the body, and the remaining fat may take up to eight weeks to settle.
Although there is a delay in the visibility of the results, a fat transfer is by far the best option if you would like your butt augmentation to look and feel natural.
Want to Learn More?
If you are interested in learning more about the Brazilian Butt Lift, please contact Dr. Rey by calling 310-205-3107 or by filling out our online contact form.