Posted March 01, 2022 in Breast Augmentation
5 Minute Read:
If you're like many women, you want to have fuller and shapelier breasts. Whether it's because you want to increase your confidence or you want clothing to fit better, it is common to desire a larger chest size. And breast augmentation surgery is the way to achieve this result.
In fact, breast augmentation was one of the top five cosmetic plastic surgery procedures in 2020, which goes to show just how trusted this procedure actually is. However, deciding to have a breast augmentation is only the first step.
Next, you need to make sure that you choose the right plastic surgeon for you.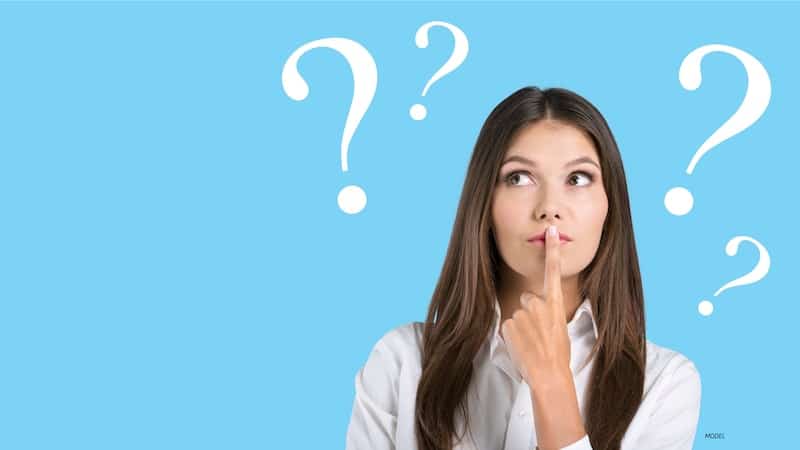 Choosing a Plastic Surgeon
One of the first things to do before any cosmetic procedure is to schedule a consultation with your plastic surgeon. Many people think of the consultation as a type of interview, where the plastic surgeon asks you questions about your goals for the procedure. And while this is a great comparison, you need to also realize that your consultation is a chance for you to interview the plastic surgeon back so that you can find out more about who they are and what they can offer.
If you really think about it, you are trusting this plastic surgeon with your appearance, as well as your safety and health, so you want to make sure that you know your plastic surgeon has your best interest in mind.
Below are some questions that you should consider asking your plastic surgeon during your breast augmentation surgery consultation to make sure that you are making the right choice.
When you ask these questions, it is important that you really pay attention to the candor and tone given by your potential plastic surgeon. It is important that you feel comfortable with their honesty and answers.
1. How long have you been performing breast augmentation, and about how many augmentations have you done?
As with any skill, a plastic surgeon becomes more successful with each procedure he performs. Because of this, you want to make sure that he has a proven track record. That way, too, you'll be sure that he knows different strategies to ensure that your results are exactly what you're looking for.
This is not to say that plastic surgeons who are young and starting out aren't talented, but it is important to have proof that your plastic surgeon knows exactly what they are doing, since they are experienced with that specific surgical procedure.
2. What are the potential complications that can arise, and what would you do to solve them?
Though rare, there are always risks and complications associated with plastic surgery. Because of this, it is smart to know what those risks may be. Additionally, when choosing (or, really, interviewing) the right plastic surgeon for you, it is vital to ask how he will solve any of these potential complications. More than anything, you want to know that there is an established plan in case any of these issues arise. If there is a plan, then you know that your safety and health will be prioritized and that your results will remain successful.
3. What types of implants do you offer, and what do you suggest for my frame and lifestyle?
One of the difficulties with breast augmentation is that there are so many different decisions that must be made to give you the results you're looking for. These choices include:
The material of the implants (saline implant or silicone implants)
The shape of the implants (round implant or teardrop implant)
The profile of the implants (low profile implant or high profile implant)
The choice of material, shape, and profile all depend on the breast size, look, and feel you want.
However, during your consultation, your potential plastic surgeon should offer you suggestions that he feels will give you the best results for your physique and lifestyle.
In addition to implant material, shape, and profile, your plastic surgeon should also give you honest suggestions and recommendations on implant placement (submuscular or subglandular/submammary) as well as incision locations.
Knowing this will not only help you realize your results but will also help you understand what your breast augmentation scars will be.
4. Can I see before and after images?
One of the most important qualities for any plastic surgeon to have and share with you in your consultation is honesty. You want to be able to trust your plastic surgeon, and one way to find this out is to look at how open he is with sharing results from previous procedures.
If he steers away from showing you his work on other patients, then he is probably hiding something, which is not a quality you want from someone you are trusting your safety and aesthetic appearance to. However, if he is happy to share photos from previous procedures, then you can know that he is trustworthy and proud of the work he has performed.
Why Should You Trust Dr. Rey?
Dr. Robert Rey is an expert in breast surgery, with years of experience performing successful breast augmentations and other breast procedures (including breast reduction surgery, breast lift surgery, and breast reconstruction surgery).
Not only does he have a successful track record of plastic surgery procedures, but Dr. Rey cares about the health, safety, and happiness of each of his patients. He is happy to answer any questions you have and share previous results (both during your consultation and in the online gallery) so that you can see what results you can expect.
Interested in Learning More About Breast Augmentation?
To learn more about breast augmentation or any other procedures available, please contact our office at (310) 205-3107 or schedule a personal consultation with Dr. Rey today.