Posted February 18, 2022 in Breast Lift
3 Minute Read:
It's no surprise to say that pregnancy and childbirth cause women's bodies to change in countless ways. However, many people don't realize that many of these changes brought about by childbearing don't necessarily go away on their own.
After having children, many women see their old physique changed completely, seemingly gone for good. But that doesn't have to be the case, at least not for her breasts. A postpartum breast lift can help restore and revitalize your breasts to make you the hot, sexy mama you deserve to be!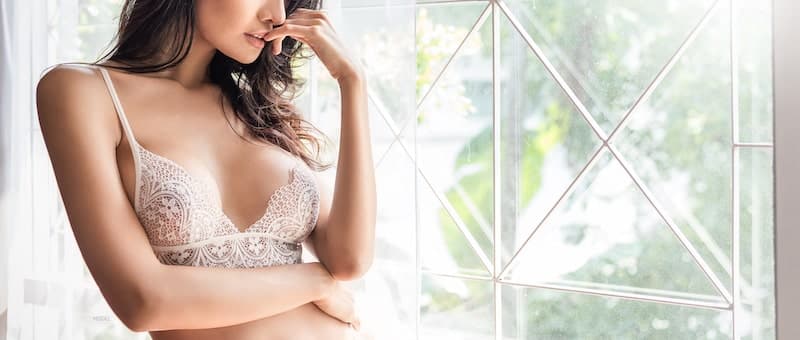 Benefits of a Postpartum Breast Lift
Pregnancy and breastfeeding significantly impact the shape and size of the breasts. Many women notice that the firmness and elevation of their breasts aren't what they used to be. Your breasts likely became larger from the development of breast milk, but now that you are no longer breastfeeding, they sag, contributing to a frumpy-looking shape. Additionally, your nipples may have lost their forward projection and now point downward.
Breast lift surgery (mastopexy) is one of the most trusted and popular plastic surgery procedures each year. In 2020, over 87,000 women had a breast lift. That is because the results are stunning, whether a woman has just finished breastfeeding her baby or not. 
If you are looking to get your pre-baby bod back, then a breast lift can:
Elevate your breasts
Get rid of sagging
Correct nipple-areolar projection
Help alleviate skin irritations and rashes beneath the breasts
Boost your confidence
The Breast Lift Procedure
At your consultation, Dr. Rey will evaluate your breast condition to determine that a breast lift is right for you. Once this happens, you will schedule your surgery.
During the procedure, you will be given general anesthesia to make sure that you don't feel any pain or discomfort. Dr. Rey will then make an incision around each areola. Depending on the extent of sagging and correction needed, a vertical incision may be made down the lower pole of the breast that continues along the inframammary fold (breast crease).
The breast tissue will be reshaped, possibly with the assistance of internal stitches, and excess breast skin will be removed. If needed, the nipple-areola complex will be elevated to a higher and more natural position, and the incisions are closed.
Combining Breast Enhancement Procedures
To get the most out of your breast lift, you might want to think about combining your breast lift with implants. A lift with breast augmentation surgery can help you stand out even more. While the lift will set your breasts at a more youthful and sexier height, the augmentation will increase the size of your breasts (to combat post-breastfeeding deflation).
Conversely, if you are looking to get a slimmer body shape, you may want to consider a breast reduction and lift. Breast reduction surgery can help you get rid of overly large and burdensome breasts, while the lift will give you that contoured aesthetic.
Interested in Learning More?
To learn more about breast lift, please contact our office at (310) 205-3107 or schedule a consultation with Dr. Rey today to determine if you are a good candidate. 
You can also visit our breast lift before and after photo gallery to see how Dr. Rey has helped his previous patients.