Posted October 09, 2017 in Breast Asymmetry Correction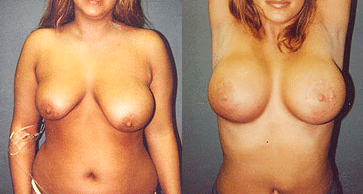 Uneven or asymmetrical breasts are extremely common, yet many women want the confidence boost that comes with fuller, more symmetrical breasts. Whether the asymmetry is extreme or slight, Dr. Rey offers a technique that can meet your needs. Here are a few of the ways Dr. Rey can correct uneven breasts.
Saline Implants
Saline implants have the unique advantage of adjustability. They can be inserted through very small incisions in the breasts in their deflated state. The implants are filled with saline solution once they are placed in the body. Your saline implants will be filled and adjusted to correct any size difference between your breasts. Saline can be injected over a period of several months to correct significant size differences. In such cases, a breast lift of the larger breast is often needed to improve the breast shape once it reaches the ideal size.
Only One Implant
A single silicone or saline implant may also be used to correct asymmetry, sometimes in addition to a breast lift of the opposite, naturally smaller breast. Most women believe silicone implants to be more natural looking and feeling than saline, so there will not be much of a difference in feel from the unaffected breast to the one with the silicone implant.
Breast Reduction and Breast Lift
Since a breast reduction removes excess breast tissue that contributes to breast heaviness or unwanted large size, a breast reduction can be performed on the larger breast, along with a breast lift to both breasts. These procedures combined will ensure symmetry.
Lollipop Reduction and Breast Lift
The lollipop breast reduction is similar to a regular breast reduction, but it has the advantage of no horizontal incision lines. The lollipop reduction also uses the unwanted breast tissue that is excised to augment the sagging breast.
In all efforts to correct asymmetry, Dr. Robert Rey uses the most advanced techniques to reduce the appearance of scars. To see some of his best work, please view his asymmetry correction before and after photos. He will have plenty more photos for you to view during your initial consultation.