Posted March 14, 2019 in Breast Augmentation, Buttock Augmentation, Liposuction, Tummy Tuck (Abdominoplasty)
Summer is known as the time to engage in beach trips, backyard barbeques, family vacations, and long-awaited relaxation. While some patients look forward to participating in these fun activities, others may feel concerned about revealing their body due to having developed unwanted fat or excess skin in troubled areas. Many people who want to look and feel their best during the summer often turn to plastic surgery for help. Undergoing certain cosmetic procedures, like breast augmentation or tummy tuck surgery, before the summer season is in full swing can provide you with a slimmer and more toned figure.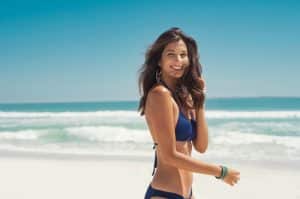 Plan Ahead
When planning for your surgery, you want to make sure you give yourself enough time to recover before the summer. You should do some research about the procedure you would like to have done and schedule a consultation with your plastic surgeon to talk about any questions or concerns you may have. This may include:
When is the best time to get surgery before the summer?
How long will my recovery take if I want to have more than one procedure?
Will I be able to show off my results before summer?
Most body contouring procedures may require a few months for your wounds to fully recover, while others may only take up to a few weeks. That is why the best time to undergo plastic surgery is during the fall or winter, so your body has enough time to heal.
Procedures to Consider
Many patients often choose to undergo procedures that address the core of the body, such as the stomach, hips, buttocks, thighs, and breasts. If you are struggling with imperfections in one or more of the following areas, you may consider these body contouring procedures.
Liposuction
No matter how much we may diet and exercise, sometimes it can be hard to eliminate excess fat that is lingering in some areas of our body. Liposuction is a surgical procedure that can remove stubborn fat depots and sculpt the body in the following areas:
Abdomen
Chest
Flanks
Thighs
Back
Buttocks
Tummy Tuck Surgery
Tummy tuck surgery, or abdominoplasty, can address weak abdominal muscles and sagging skin as a result of weight loss, pregnancy, or aging. It can also be performed alongside liposuction to remove unwanted fat to produce a slimmer and more toned figure that will make you feel beautiful and confident during the summer.
Butt Augmentation
Butt augmentation can provide you with an aesthetically pleasing backside and curves for those who struggle with a naturally small or deflated buttocks. This procedure can add volume and shape to the buttocks using either butt implants or fat grafting, also known as Brazilian Butt Lift surgery.
Breast Augmentation
Breast augmentation can help you obtain your ideal breast size and shape using saline or silicone implants to enhance their overall appearance. This procedure will not only provide you with an aesthetically pleasing bust, but it will also leave you feeling beautiful and confident when walking down the beach.
To learn more about our body contouring procedures, please contact our office at (310) 205-3107 or schedule a personal consultation with Dr. Rey today to determine if you are a good candidate.