Posted December 08, 2021 in Breast Augmentation, Breast Lift
2 Minute Read:
Many women dread wearing a bra. For many, there is nothing better than taking your bra off after a long day. However, the benefits of wearing a bra significantly outweigh the risks of not.
As you would expect, natural aging, weight fluctuation, pregnancy, and breastfeeding can all affect the perkiness of your breasts, and these all can be worsened if a proper bra is not worn.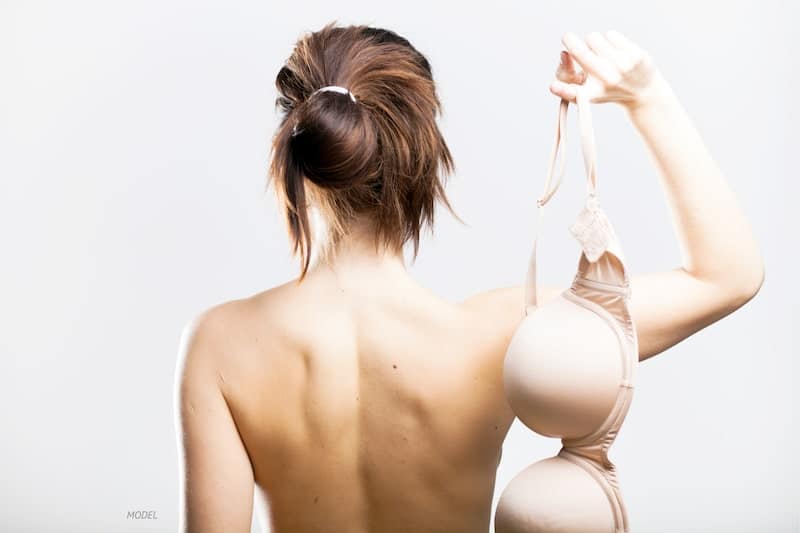 Wearing a bra keeps your breasts supported all day to reduce the chances of premature sagging. Women who do not wear bras are more likely to experience breast sagging than those who do.
Do Bras Cause Breast Sagging?
The world is full of myths and truths, which can be hard to determine. The bra myth says that wearing a bra will make your breasts saggy over time, which is why many teenage girls don't wear bras. They choose to embrace their "natural womanhood" by letting nature take its course.
However, this is misleading, as the truth is that not wearing a bra can cause you to need a breast lift eventually, most likely sooner rather than later.
What Causes Breast Sagging?
Many things can cause your breasts to sag. The most common include genetics, getting older, pregnancy, breastfeeding, weight fluctuations, gravity, natural wear and tear on your breasts, and medications, such as hormone therapy.
A breast lift or mastopexy can be performed to correct sagging or drooping breasts. This procedure lifts the breasts back up to a more youthful position.
Can Sagging Breasts Be Firm Again?
Not on their own. Breast tissue that has been stretched cannot return to its previous firmness without surgery. However, certain exercises like push-ups and bench presses can tone up the muscles behind the breasts which might improve the overall appearance.
Can I Go Braless After a Breast Lift?
No. After breast enhancement surgery, some women are even encouraged to wear a "compression garment" or sports bra at all times for at least three weeks after the operation. This is to help their breasts heal properly and prevent further stretching of the skin from occurring.
It is imperative to wear a supportive bra even after your breasts have healed. This will help protect the appearance and quality of your results and assist in comfort.
Are You Looking for Breast Lift Surgeons in Beverly Hills?
Breast lift procedures are considered among the most successful plastic surgery procedures. There are many options available for women to improve their shape and size of breasts, but not all breast lifts are the same. Our breast lift procedures result in long-lasting results that can achieve outstanding breast symmetry.
View our breast lift before and after photo gallery and contact us at (310) 205-3107 or fill out our online form for more information.