Posted September 18, 2023 in Body Procedures
While many women and men believe liposuction surgery is a form of weight loss, this is just not true. The reality is that liposuction, like all cosmetic procedures, is not a weight loss surgery (such as bariatric surgery).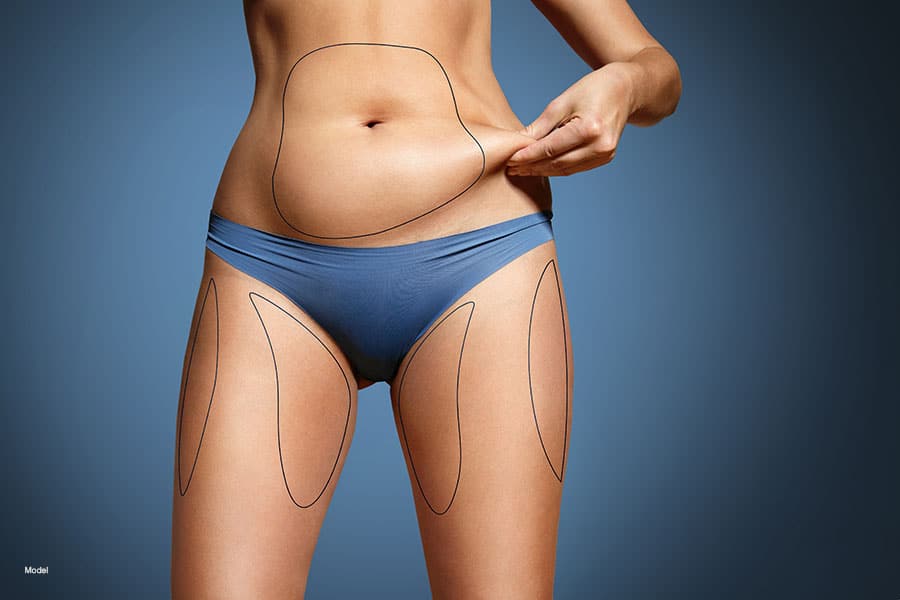 Liposuction can improve patients' aesthetic appearances by removing stubborn fat (fat that is unresponsive to natural diet and exercise). And one of the best aspects of liposuction is that the removed fat is gone permanently, meaning you can look forward to long-lasting results. However, to improve outcomes and limit the risks associated with this surgery, it is important that prospective patients be at or very near their ideal weight before undergoing liposuction.
Below, we'll take a closer look at liposuction, including the steps involved with the surgery and what you can do before and after your procedure to ensure your desired results.
How Is Liposuction Performed?
Liposuction surgery is one of the most versatile plastic surgery procedures available to women and men. This is because liposuction can be performed as a standalone procedure or combined with other surgeries. In fact, liposuction is integral to many other cosmetic procedures, including tummy tuck surgery (abdominoplasty) and Mommy Makeover surgery.
With liposuction, subcutaneous fat is essentially vacuumed out of the body. This procedure can be used in various areas, including the:
Abdomen
Waist
Hips/flanks
Thighs
Knees
Calves
Buttocks
Back
Arms
Neck (under the chin)
Consultation
During your consultation, Dr. Rey will evaluate your condition to determine if you are a candidate for liposuction. Take this opportunity to ask any questions you may have and pay attention to the pre- and post-surgery instructions provided by Dr. Rey.
Anesthesia
Liposuction is often performed under general anesthesia (although local anesthesia with IV sedation may be used) to ensure a safe and comfortable procedure. This anesthesia will be administered by an anesthesiologist, who will be present during your entire treatment.
Procedure
Dr. Rey is proud to use the latest and most advanced microcannula liposculpture.
After the anesthesia has been administered, he will make small incisions in the target area(s). Through these incisions, he will insert a microcannula and loosen pockets of stubborn fat. Once this fat is loosened, it will be suctioned out of your body through the microcannula.
How Can You Prepare for Your Liposuction?
Preparing yourself (body and mind) for your liposuction procedure can help you achieve better results and minimize complications.
This preparation includes quitting smoking (including vaping) three to six weeks before your procedure, setting up a recovery area (a comfortable spot with plenty of entertainment options), and ensuring you have someone who can drive you to and from your surgery and help you during the first few days of your recovery.
Additionally, you must ensure that you are at or near your ideal weight and have a healthy BMI (body mass index). Depending on your weight and BMI, you may have to wait to undergo liposuction until you are healthier.
How Does Weight Affect Liposuction?
Being overweight (and/or having a high BMI) can increase many risks, including unsatisfactory results and complications during and after your procedure.
There has been plenty of research about the risks involved with overweight patients during their plastic surgery procedures, including a study by Ri Motonari, et al. Being overweight can prolong your recovery, and it increases the chance of infection and blood clots.
Aesthetically, being overweight will limit the body contouring results that can be achieved, keeping you from looking the way you truly want.
Because of this, whether by diet and exercise or surgery (gastric bypass surgery), it is important that you achieve a healthy weight before liposuction.
What Can You Expect After Your Liposuction?
While it may seem cliché, the reality is that plastic surgery is not a permanent cure-all. While you can achieve an improved cosmetic appearance from liposuction, you must maintain a healthy lifestyle and weight. Gaining weight after liposuction can erase your results and negatively affect your self-esteem.
After liposuction, make sure to follow your post-surgical plan. This includes resting as much as possible to allow your body to heal. Additionally, you will want to ensure that you eat healthy foods and drink plenty of water.
You will also need to refrain from strenuous activities; however, short, slow walks and light stretching can help speed up your recovery, as they improve blood circulation.
Keeping your results and health at the forefront of everything you do (both before and after your liposuction) can help you achieve a more trimmed and contoured figure, which can help you look younger and feel healthier than you have in years.
Want to Learn More?
If you want to remove unwanted fat from your body with liposuction permanently, then contact our office at (310) 205-3107 or schedule a consultation with Dr. Rey today.