Posted October 17, 2023 in Tummy Tuck (Abdominoplasty)
Abdominoplasty is a fantastic procedure for eliminating sagging, stretched skin and stubborn pockets of fat due to pregnancy or weight fluctuations. These issues typically coincide with stretch marks on the midsection and hips.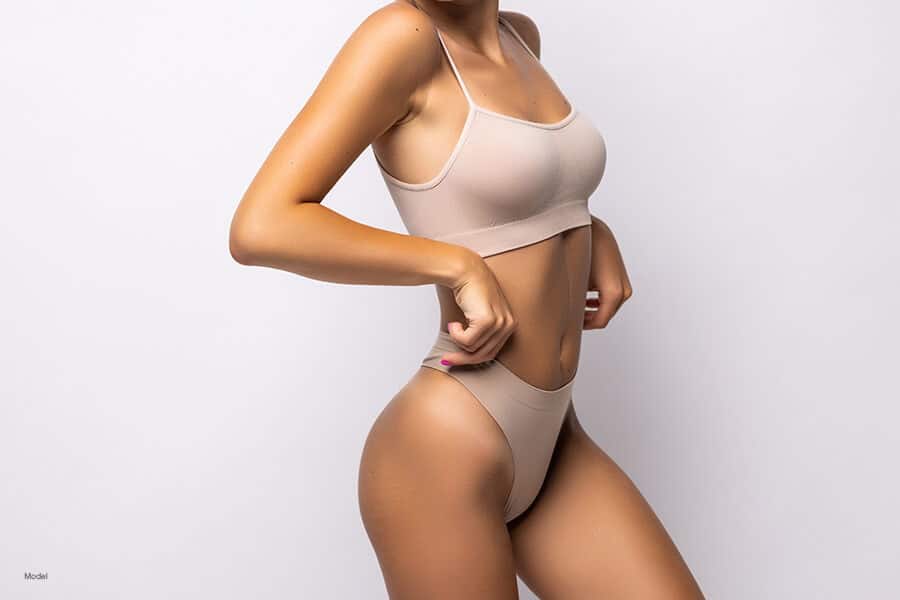 While stretch mark removal is not the primary design of abdominoplasty, you may see some improvement.
What Are the Benefits of a Tummy Tuck?
Abdominoplasty, known as a tummy tuck, is a surgical procedure that targets sagging skin, localized fat pockets, and separated abdominal muscles. Many patients who seek tummy tuck surgery struggle to obtain a flat, toned abdomen after significant weight loss and pregnancy.
There are a few reasons why a tummy tuck may be useful:
If your skin has become stretched following pregnancy or after losing weight
Sagging skin as a result of aging
Weight fluctuations that cause the skin to stretch
Separated abdominal muscles that cause a "pooch" in the lower abdomen
The primary goal of a tummy tuck is to remove excess skin that is causing your midsection to look misshapen or uneven. Additionally, your plastic surgeon can surgically tighten and reposition separated abdominal muscles (diastasis recti) to create a smoother, flatter surface.
Will My Tummy Tuck Remove My Stretch Marks?
This will entirely depend on the location of your stretch marks. If your stretch marks are located on the area of the skin that is removed, then yes, a tummy tuck will remove your stretch marks. However, this procedure is not designed to eliminate all unwanted markings.
A closer look at the procedure itself can help you gauge if your stretch marks are in the correct location:
During a traditional tummy tuck, your plastic surgeon will make an incision that runs horizontally across the pelvic bone, underneath the belly button. Your surgeon will surgically repair your abdominal muscles and remove fat. Then, your skin will be stretched downward to create a more pleasing contour. Once the skin is naturally redraped, the excess is trimmed off.
Many stretch marks will be removed if they are primarily located below the belly button (which is common) and you have a substantial amount of skin that can be excised.
However, only so much skin can be removed from the abdomen. The primary goal of this procedure is to create a more appealing aesthetic and contour of your midsection.
What Kind of Results Can I Expect With My Tummy Tuck?
Whether or not a large portion of your stretch marks are removed, a tummy tuck is a transformative procedure that can significantly improve your body contour.
After pregnancy or major weight loss, a flabby midsection with excess skin is extremely frustrating. Even with diet and exercise, you cannot remove excess skin. A tummy tuck allows you to get your body back to how it once was.
A tummy tuck gives results that no other surgical or non-surgical procedure can. You can enjoy a smoother abdomen, tighter, and better-contoured abdomen.
It's also much easier to maintain (and even improve) the results of your tummy tuck. With a smoother surface, tight skin, and repaired abdominal muscles, you can continue to tone and contour your body to look your best for years to come.
Interested in Tummy Tucks in Beverly Hills, CA?
Dr. Robert Rey is a highly experienced plastic surgeon in Beverly Hills, California, specializing in body contouring procedures like the tummy tuck, Mommy Makeovers, and more. If you would like to know how Dr. Rey can help you achieve your body goals or schedule a consultation, call us at (310) 205-3107 or fill out our online contact form.