Posted October 31, 2023 in Breast Augmentation
A prospective breast augmentation can be very exciting, but some patients are unprepared and even surprised by all the decisions that still need to be made.
One key choice for breast augmentation patients is deciding between silicone and saline breast implants. While there are pros and cons to each, there is an ultimate choice that's best for each person. Below, we'll discuss the features of each so you can prepare for your procedure.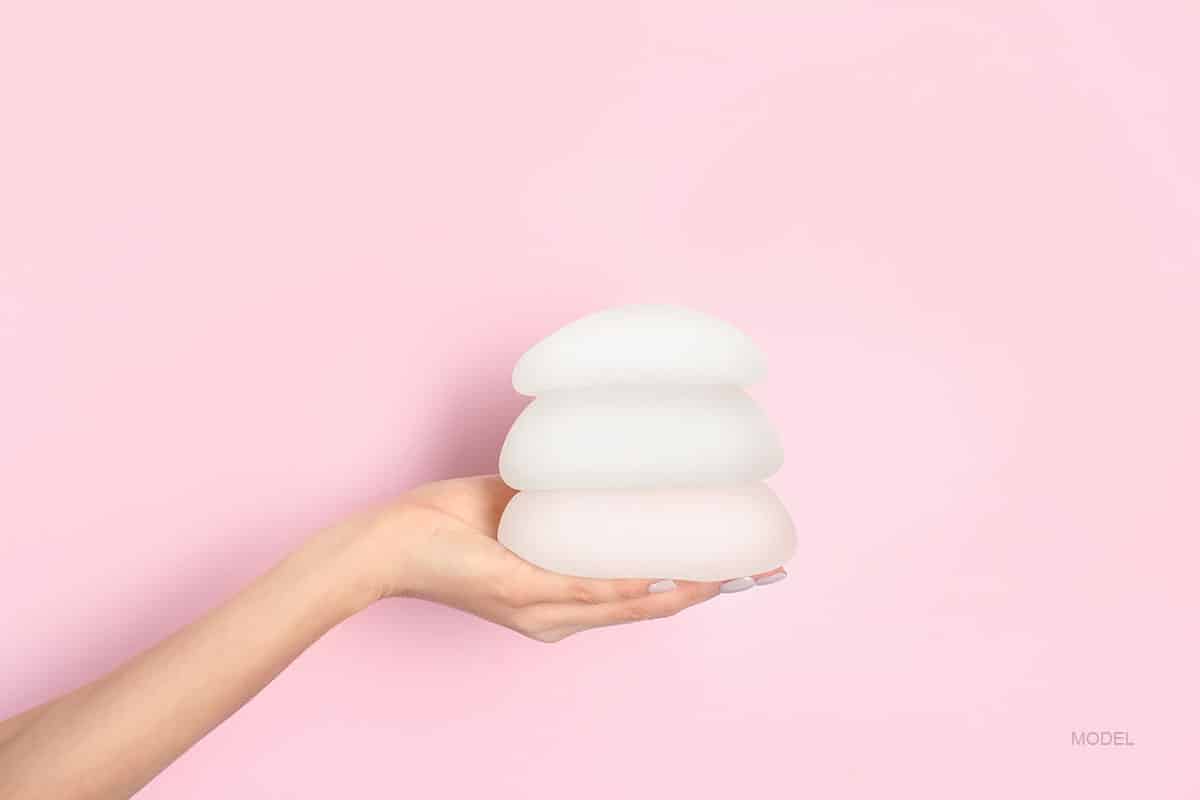 Saline Breast Implants
Saline breast implants consist of a silicone shell that is filled with a saltwater solution. Some of the benefits include:
Can be inserted into the breast pocket empty and are filled during the procedure, which means the patient can achieve a larger implant size with a smaller incision
Are generally considered to be the safer option, as any leaks and ruptures are easier to detect
Can be naturally absorbed by the body if a saline liquid leak does occur
Are FDA approved for patients 18 and older, making them a popular option for younger patients
Are generally more cost-efficient than other types of implants
Some potential drawbacks of the saline implant include:
As they are filled with a water-like substance, saline implants may be more prone to visible rippling and wrinkles under the skin
It is more likely the edges of the implant are visible
May feel slightly less natural, as they are softer and more malleable than silicone
Overall, saline implants offer low-maintenance, accessible, beautiful results. Saline implants tend to appear more rounded, with less natural movement. If you desire a more dramatic result, or you are a younger patient who wants breast augmentation before turning 22 years old, saline implants may be a great choice.
Silicone Breast Implants
Silicone breast implants are a pre-filled silicone shell with a cohesive silicone gel. Some benefits of silicone breast implants include:
Silicone breast implants best emulate the look and feel of natural breast tissue
If used with smooth implants, they move more naturally in the breast pocket, as natural breasts do
They are less likely to develop ripples or wrinkles
Silicone breast implants are FDA-approved for patients over 22 years old
Some potential drawbacks of silicone breast implants include:
As the silicone shells come pre-filled, they may require a larger incision to place them
Leaks or ruptures are only identified with an MRI
Generally more expensive than saline breast implants
Not available to patients under 22 years old
Silicone implants are generally more popular with breast augmentation patients as they most closely resemble natural breast tissue. Silicone breast implants are softer and rest more naturally on the breast line, so silicone may be the best bet for patients interested in a more subtle result.
Are Silicone Implants Safe?
While there have been links between certain types of breast implants and illnesses and cancer, the FDA has stated that these cases are rare. However, it is essential to understand the risks before undergoing breast augmentation.
Breast implants are not designed to last a lifetime—either saline or silicone. You should be aware that you may need to replace your implants at some point.
The FDA recommends that women with silicone implants should schedule MRI exams every few years to monitor their breasts for any silent ruptures that otherwise go unnoticed.
The Bottom Line:
Silicone implants are safe, but you must be prepared to maintain them and be aware of any changes to your implants or overall health. If you notice any changes, be sure to contact your primary care doctor.
Which Breast Implant Is Best For You?
In the end, the choice is your own! Decide what is best for your goals, what aesthetic you would like, and what values are important to you and will work for your body.
There are more choices ahead, including projection, implant shape, and placement. Your plastic surgeon will discuss these options during your comprehensive breast augmentation consultation. Be sure to ask as many questions as you need to feel comfortable. Get their expert advice and allow them to make suggestions. Remember, it's your body and your choice, but your surgeon has performed this procedure countless times and has an eye for beauty and proportion. Your doctor can help you make the best decision to get you the breasts that you desire.
Interested in Breast Augmentation in Beverly Hills, CA?
Dr. Robert Rey has extensive experience with cosmetic breast surgeries, including breast augmentation, breast lift, and breast reduction. If you would like to learn how Dr. Rey can help you get the body of your dreams, call us today at (310) 205-3107 or fill out our online contact form.