Posted April 05, 2021 in Mommy Makeover
3 Minute Read:
Becoming a mother is one of the most significant experiences in a woman's life. However, this life event can take a major toll on the body. Thankfully, a Mommy Makeover is a personalized procedure designed to correct various body areas negatively affected by pregnancy and childbirth.
However, since many different procedures can be included within a Mommy Makeover, it can be hard to determine which procedures you wish to undergo or would benefit from.
Follow this guide to better understand which procedures should be a part of your Mommy Makeover.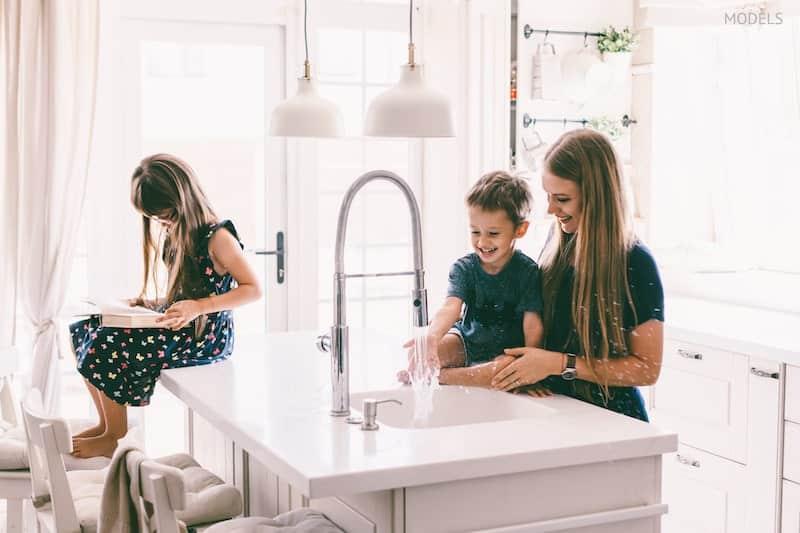 What Are My Mommy Makeover Options?
Before undergoing a Mommy Makeover, you will have to decide which procedures to include.
Here are your options:
A Tummy Tuck
During pregnancy, your abdomen expands to make room for your growing child. After you have the baby, you may notice that your skin does not bounce back quite as fast as the rest of your stomach.
This sagging skin can be impossible to remove with diet and exercise alone. A tummy tuck is necessary to remove excess abdominal skin and tighten the weakened muscles in many cases.
Depending on the severity of skin sagging, you may need a mini, standard, or extended tummy tuck.
Breast Augmentation
During pregnancy, many women experience loss of volume in their breasts. To regain volume and create large, fuller breasts, breast augmentation surgery can be performed.
Breast augmentation uses saline or silicone breast implants to create the appearance you have always wanted. During your consultation, you and Dr. Rey will discuss which implant type and size will be the most beneficial based on your needs and goals for the procedure.
Breast Reduction
For some women, pregnancy can cause their breasts to enlarge, and even after having the baby, their breasts do not go back to their normal size.
These large breasts can be painful and inconvenient in many situations. Breast reduction surgery removes excess breast tissue to restore your breasts to a more pleasing, comfortable size.
Breast Lift
Similar to abdominal sagging, pregnancy can also cause breast sagging. A breast lift works to correct breast sagging by reshaping the breast tissue, removing excess skin, and lifting the breasts higher onto the chest.
This procedure is often performed in combination with breast augmentation surgery or a breast reduction.
Liposuction
During pregnancy, the female body goes through a lot of changes.
Understandably, many women are left with some unwanted fat deposits that are impossible to remove without surgery. Liposuction is often necessary to eliminate stubborn fat deposits left on the body after pregnancy and childbirth.
If you are having trouble removing leftover baby fat, liposuction may be right for you.
Am I a Candidate for a Mommy Makeover?
You may be a candidate for a Mommy Makeover if you are unhappy with the appearance of your post-baby body. However, a consultation with Dr. Rey is the only way to determine which procedures are right for you.
If you are interested in learning more about how you can benefit from a Mommy Makeover, please schedule a consultation by calling (310) 205-3107 or fill out our online contact form.
For your convenience and safety, Dr. Rey also offers virtual consultations through Skype™.