Posted March 10, 2021 in Plastic Surgery Recovery, Tummy Tuck (Abdominoplasty)
3 Minute Read:
One of the main reasons people decide against plastic surgery is the extensive recovery time. We all have busy lives, and recovering from surgery can be time-consuming and inconvenient.
However, if you can take time away from your busy schedule to recover from surgery, your recovery should be enjoyable.
After tummy tuck surgery, patients will need to spend a significant amount of time resting and recovering. You can treat your recovery as a break from the tedious stresses of daily life by doing the things you enjoy and usually don't have time for.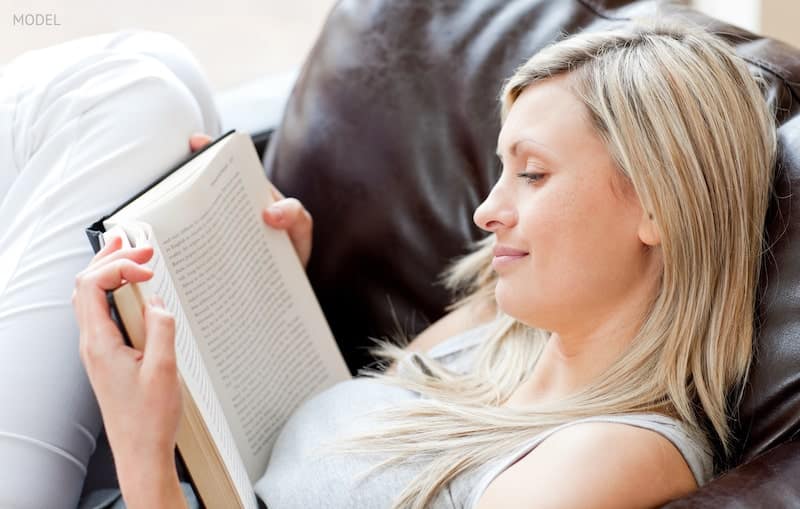 1. Binge-Watch Your Favorite Television Shows
Throughout the business of life, binge-watching your favorite TV shows may seem like a waste of time.
Surely, there are better, more productive things to do.
However, when you are recovering from tummy tuck surgery, you have all the time in the world. During your recovery, curl up in your bed or on the couch and have a guilt-free TV show marathon. Maybe you can even start that series you have been eyeing for a while now.
2. Start on a Puzzle 
Puzzles can be a fun way to stay busy and take your mind off things. However, they can take a long time to do. Since you have some extra time in your schedule while recovering, consider starting a puzzle (as long as it is relatively small and you don't have to stretch too much).
Puzzles can keep your brain working while keeping you entertained and engaged. 
3. Get Lost in a Good Book 
Do you have a reading list that you haven't been able to get to?
Reading a book is a perfect recovering activity because it does not require any physical effort. You can curl up anywhere that you are comfortable and spend time getting lost in a good book.
Take time during your tummy tuck recovery to read the book that has been on your list for years.
4. Online Shop 
Since you are recovering from your tummy tuck, you will not be able to go out to the store and shop as you usually would. However, thanks to online shopping, you can still buy the things you need or want.
Browsing or buying things online is a great way to pass the time. You may even find the thing you have been looking to purchase for quite some time. 
5. Write Letters to Family and Friends 
Everyone likes getting mail, but who has the time to write out personal letters these days?
Well, since you will be spending your time recovering, you now have the time. Consider spending some of your recovery time writing letters to your close family and friends. Handwritten letters show you care and that you were thinking of them.
Interested in Learning More About Tummy Tuck Recovery in Beverly Hills?
If you are interested in learning more about tummy tuck surgery and its recovery in Beverly Hills, California, please call Dr. Rey at 310-205-3107 or fill out our online contact form.