Posted February 04, 2021 in Labiaplasty
3 Minute Read:
Choosing to undergo labiaplasty is a decision that you should feel good about. Labiaplasty is a major procedure that can be stressful to undergo if you aren't adequately prepared. However, the right plastic surgeon can make the process comfortable and stress-free.
Before your procedure, it is important to feel confident with the plastic surgeon you choose. During your consultation, consider asking these questions to ensure you are making the right choice for your labiaplasty surgeon.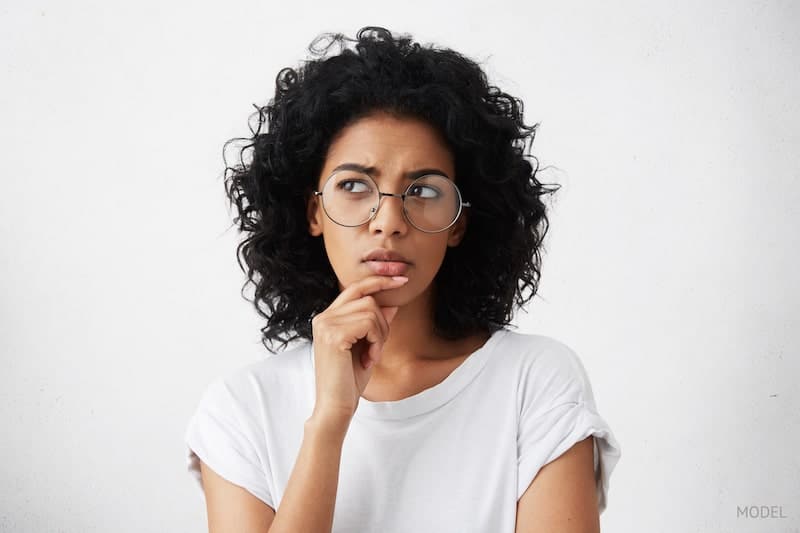 What Questions Should I Ask During My Initial Consultation?
Your consultation plays two roles. The first is to learn all you need to know about your surgery: your candidacy, the techniques used, how you should prepare, what you need to know for recovery, and what kind of results you can expect. The second is much more intuitive: Are you comfortable and confident with your surgeon?
During your initial consultation, you may wish to ask questions about his or her experience and expertise to feel confident they are qualified to perform your complicated procedure. Some important questions to ask include: 
1. How Long Have You Been Practicing Plastic Surgery? 
You should ask the plastic surgeon how long they have been practicing plastic surgery (in general) and your designated procedure. You want to ensure that your surgeon has more than adequate experience with your procedure, especially one like labiaplasty. This can help you feel more comfortable and confident that they are right for you.
Plastic surgeons with years of experience have a lot of knowledge about performing different procedures to fit each patient's needs. Asking this question can help ease your nerves and make you feel better about your decision.
2. How Often Do You Perform Labiaplasties? 
In addition to asking how long the surgeon has been practicing plastic surgery, you may also want to ask how often they perform labiaplasty. Labiaplasty is a unique plastic surgery technique and not every surgeon has the knowledge and skills to accomplish a successful labia minora reduction.
They may be experienced in most plastic surgery procedures, but how experienced are they with labiaplasties? This question can help you determine if a plastic surgeon is right for you and your specific needs. 
3. How Do You and Your Team Handle Complications During Surgery? 
One of the main reasons people are hesitant to undergo the surgery they have always wanted is their fear of surgical complications.
Unfortunately, some risks are present with any plastic surgery procedure, especially those requiring anesthesia. However, with a qualified, experienced surgeon, labiaplasty is a generally safe procedure. It is important to feel confident that your surgeon and their team will take the necessary steps to ensure your safety. Asking your surgeon what they do in case of an emergency or when complications arise can help you know that you are in the right hands.
Interested in Learning More About Labiaplasty Surgery in Beverly Hills?
If you are interested in learning more about how Dr. Rey is qualified to perform your labiaplasty, please contact our office at (310) 205-3107 or schedule a consultation.