Posted January 13, 2021 in Breast Augmentation, Rhinoplasty (Nose Surgery), Social Media
2 Minute Read:
Today, social media is more prevalent than ever, and it has significantly led to the rise of aesthetic procedures—especially among the younger generation. In fact, according to a study by RealSelf, nearly half of the participants were influenced by social media in deciding to undergo both surgical and non-surgical cosmetic procedures.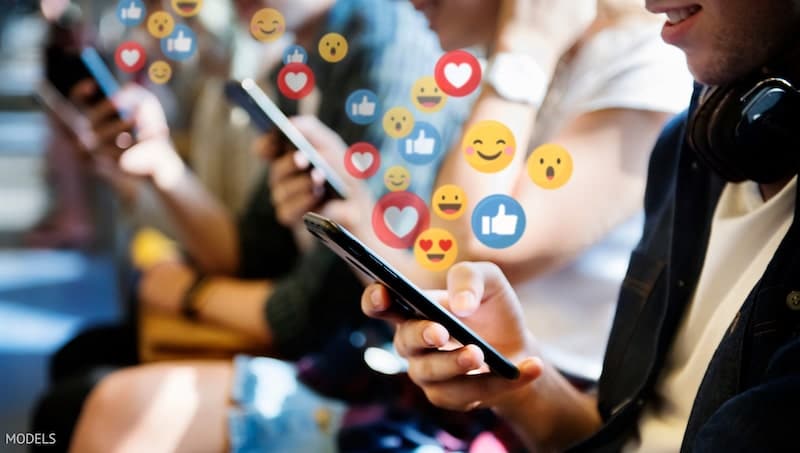 Selfies and Self Perception
Posting selfies to our social media pages have become a norm. Those selfies often draw attention to our faces and bodies, reminding us of our imperfections, whether it's the little wrinkles around the eyes, unattractive nose, or the not-so bikini-ready body.
This usually affects the way a person is viewed by others and could even lower their self-confidence.
Because of this, many young people are inspired to seek cosmetic surgery to enhance their appearance and look better online.
Increased Use of Face-Editing Apps
More studies are showing the correlation between face editing apps and perceptions of cosmetic procedures. These photo editing apps make it easy for users to focus on their physical appearance.
The visual nature of such applications has made people increasingly draw inspiration from photo editing applications and use them in consultations to show their surgeons their preferred looks.
Instead of using photos of celebrities, influencers, or someone else, many people are bringing filtered pictures of themselves to show their surgeon how they want to look.
Social Media and Increased Acceptance
Social media has made men and women more willing to embrace change. Cosmetic surgery is no longer something to hide as the stigma associated with plastic surgery has disappeared.
Thanks to celebrities and influencers who are upfront about their cosmetic procedures, we are seeing more and more people blog about their upcoming rhinoplasty or tweet about their breast augmentation procedures, even before posting their before and after shots. This encourages people to make decisions for their bodies and be proud of the changes they make.
Availability of Information Online
The availability of educational materials regarding cosmetic procedures, details, and recovery has also led to a growing interest in plastic surgery. Individuals interested in a particular cosmetic procedure can easily widen their knowledge in any given subject, thanks to the increased availability of information.
More importantly, social media is changing the way patients find a plastic surgeon. With multiple review sites on the internet, patients have a never-before opportunity to learn the good and bad about each surgeon they are considering.
Ultimately, increased engagement in social media correlates with increased consideration for cosmetic procedures.
Schedule a Consultation With Us
Are you considering cosmetic surgery?
Schedule a consultation with Dr. Rey to find out if plastic surgery is right for you. Contact us today at 310-205-3107 or fill our online form to book your appointment. You can also check out Dr. Rey's Instagram!